Melbourne Fl Auto Accident Attorney
---
Auto Accidents – Semi Truck Accidents – Motorcycle Accidents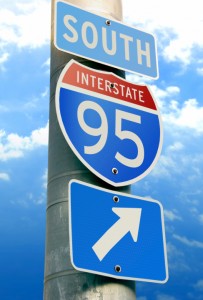 Interstate 95 is a major artery in Florida. It carries the cars of millions of tourists and local residents every year. Semi trucks, motorcycles, dump trucks, rental cars, and tour buses are part of the stream of traffic passing through central Florida.
Most experts, including the Florida Highway Patrol, believe the road is inadequate to handle the volume of traffic it carries. With only two lanes in each direction, no protective barriers in the median, and the large number of visitors uncertain about where they are going, the possibility of accidents on I-95 is high, with cross over, head on accidents tragically frequent.
At Nance Cacciatore, our lawyers help people who have been injured in motor vehicle accidents on I-95. Although the highway is narrow and has no safety guard rails in the median, the responsibility for accidents usually rests with the drivers of vehicles. Our lawyers work with accident reconstruction experts and investigators to determine liability.
We consult with medical specialists to make sure that the cost of the injuries over time is calculated accurately. We use the information from these experts and our in-house investigators to build a strong case for compensation for our clients' medical expenses, lost income, and pain and suffering. If you have been injured in a car crash or other accident on Interstate 95, contact our Melbourne, Florida law firm. Whatever the cause of the accident, our lawyers prepare every case with the assumption that it will be presented to a jury.
In addition to helping people after an accident on I-95, our lawyers handle accidents occurring further West, on Florida's Turnpike and on I-4. In all cases, we help victims of accidents such as:
Many of the auto accidents that take place on I-95, I-4, and on Florida's Turnpike occur because of debris on the roadway. Retread truck tires shred, scattering large pieces of rubber on the highway. Dump trucks accidentally release their loads. In these cases, it is often difficult to avoid these hazards, especially at night. In some cases, such dangers cause multi-car auto accidents. Cross over, head on accidents are a particular problem.
If you have been involved in an auto accident or other type of crash on Interstate 95 or on Florida's Turnpike, contact our attorneys to learn if you have a case. At the Melbourne law firm of Nance Cacciatore, our lawyers use their many years of experience, credentials, and dedication to clients to seek compensation for injuries experienced on Florida roadways.
We represent people throughout Florida, focusing on Brevard County and communities such as Titusville, Cape Canaveral, Rockledge, Palm Bay, Daytona Beach, Vero Beach, Ft. Pierce and Orlando.